Beacon120 LED High Bay Light
Bright crisp white light for high ceilings, with easy daisy-chaining…
As a key component of the LED Jobsite, Lind Equipment's Beacon120 is a bright, robust LED temporary high bay light that can illuminate over 3,000 sq ft when mounted at a height of 20′ above the ground. This light replaces traditional 400W metal halide temporary high bay lights while using only 120W of energy, a 70% decrease in energy consumption. The Beacon120 can run 15 lights on a single 120V/15A circuit, compared to only three traditional metal halide high bay lights.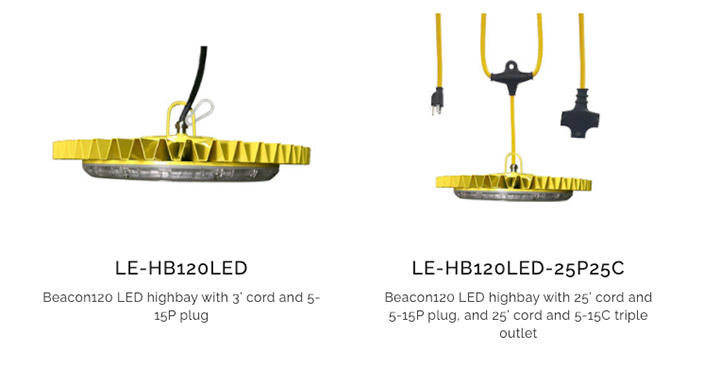 This new LED jobsite light utilizes Lind's new DirectDrive technology to dramatically decrease the size, weight, and cost while increasing the durability and longevity of the light. By removing the weakest link in any LED light, the driver, the Beacon120 DirectDrive LED highbay will outperform all other LED highbay lights for longevity and durability!
At only 2" thick and 2.6 lbs, the Beacon120 is a true innovation in the world of job site lighting.
Our temporary LED high bay light provides bright white light that illuminates large areas even from very high heights. Perfect for lighting up construction sites that have high ceilings, such as warehouses, retail, commercial / residential lobbies, etc. The high quality LEDs are cool running and rated for over 50,000 hours (5 years of 24/7 use), meaning that you never have to change a bulb.
And when it inevitably gets dropped, the Beacon120 will continue to work no matter what abuse it takes. We have exceeded even the military drop test standards when we designed this light.
As with all of our Beacon Light seriesof portable LED flood lights, the Beacon120 is weatherproof and can be used indoors and outdoors in any conditions. It will provide instant start even in the coldest locations. And unlike traditional metal halide high bays, the Beacon120 will instantly restart in the event of a power loss. No longer do workers have to wait 15-20 minutes for light after a power outage.
This temporary LED high bay comes either with a standard 3' cord and plug or Lind's unique 50' total cord length triple-outlet daisy-chain.