The New High-Speed Level 2 EV Charger is now available.
The CoRe+ Max charging station is specifically designed for light and medium-duty EV fleets with the complementary capability of serving as a public charger.
Powerful and flexible, the CoRE+ Max charger offers 77% of the speed of a 25kW DC fast charger at 30% of the cost. Meaning for the same cost as installing one 25kW DC fast charger, you can install four or more CoRe+ Max's.
The CoRe+ Max is 100% compatible with current and next-generation BEV or PHEVs in North America and has flexible charge settings, ranging from 24 to 80 amps.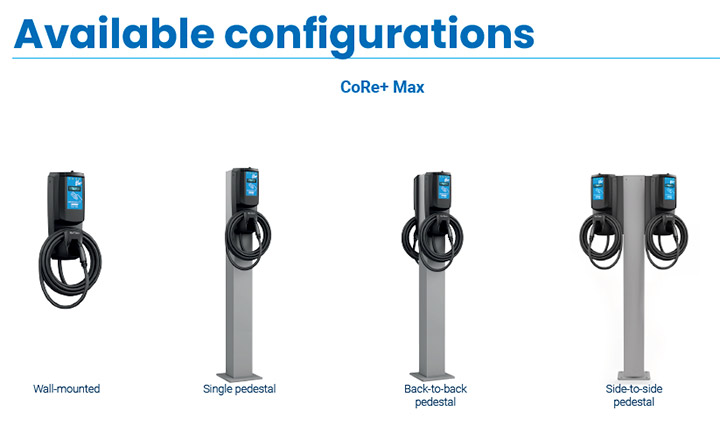 Fastest L2 Charger
80A chargers with speed up to 19.2 kW
Up to 2.7x faster than a typical (30A) level 2 charging station, with less strain on the battery than a DC fast charger.
Long-Term Durability
Get peace of mind with a high-end quality build.
The NEMA 4X full aluminum casing makes the CoRe+ Max one of the most robust and durable charging stations available for fleets and workplaces.
Power Management
Save on your electricity costs.
FLO's patented PowerSharingTM and PowerLimitingTM technologies can save you up to 45% per year.
Smart Station, Smarter Investment
Get the most from your deployment with our network management solutions.
The CoRe+ Max features LTE connectivity enabling multiple features such as proactive monitoring3 and access to a dedicated owner's web portal so you can set pricing, monitor station access, and leverage your data for insights and analytics.
Modular Design
The modular design of the CoRe+ Max makes it a sustainable charging station.
Easy, on-site repairs without the need to return the station to the factory, maximizing uptime. The optional cascading kit enables serial daisy-chain connection of multiple charging stations.