CoRe+™ is the Versatile Level 2 Charging Station, Ideal for Parking Areas of Any Size
Looking for a simple way to offer EV charging to your customers, visitors, residents, or employees? FLO will provide you with the best solution. Smart level 2 EV charging stations for multi-unit residential buildings, commercial, and industrial applications including workplaces, condos/apartments, and fleets.
CoRe+™ EV chargers are ideal for sites where several electric vehicles need to charge simultaneously because they can be cascaded to minimize installation costs for the entire site. They can be configured for virtually any parking layout. Available set-ups include simple wall-mounted, pedestal, or a combination with a cable management system to keep the cables neat, safe, and suspended.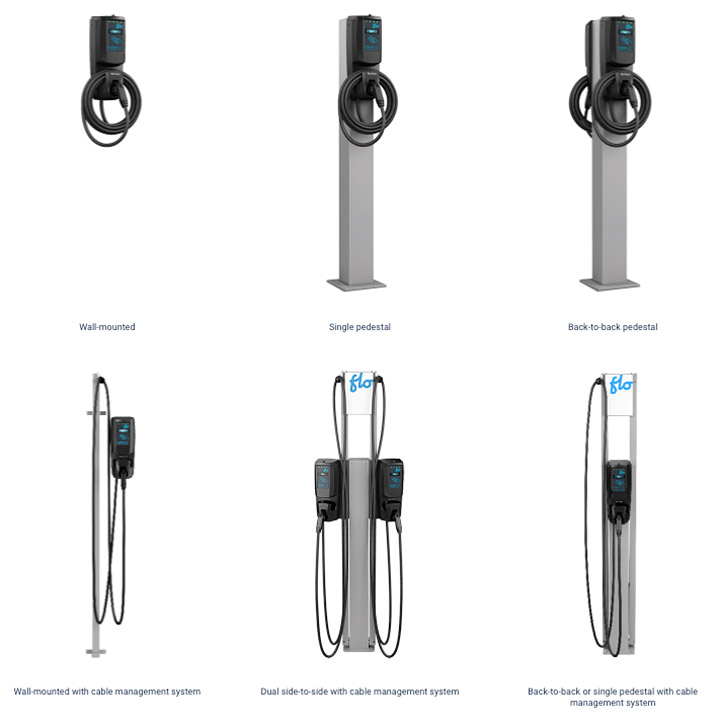 CoRe+ Product Features
Universally compatible, high-quality J1772 connector designed for 10,000+ charging cycles
NEMA 4X aluminum casing for maximum climate resistance and long-term durability (made for Canadian winters)
Flexible 25' cable to reach charging port on any vehicle, no matter how it's parked
Certified to operate at temperatures ranging from -40°C to 50°C (-40 °F to 122 °F)
Can be set-up in multiple configurations to suit any parking layout
Convenient charging session authentication through RFID card or FLO mobile app
Built-in energy management features including Power Sharing and Power Limiting
Optional cascading kit
Remote control of station access and rates for customized user experience
CSA certified
Energy-Star certified
Full Network Services
Not only is FLO an expert in charging stations, we also operate one of North America's largest EV charging networks. A yearly subscription to our Global Management Services includes everything you need to provide seamless charging for drivers, giving you total peace of mind.
24/7 toll-free support line for EV drivers using your stations
Proactive station monitoring to ensure service quality and resolve potential issues in real-time
PCI compliant billing for secure and reliable payment processing
Access to a dedicated web portal for station management and usage tracking
Real-time station status available to EV drivers via the FLO website, mobile app and third-party platforms