Preserve the integrity of your pathway and connections by using Eaton's extensive line of j-hook fasteners.
Eaton's B-Line series cable hooks, also known as j-hooks, are designed to help reduce cable bends, tears, and kinks when loading or pulling cables 5, 5e, 6, and 6a fiber optic, innerduct, and low voltage wires.

Eaton cable hooks feature a recessed fastener that keeps the mounting fastener out of the path of the wire loading area. This dramatically reduces the risk of the shielding catching on the fastener when loading, avoiding potential cable damage.
Offered in various options to meet your cable pathway requirements – including single-sided, double-sided, and multi-tiered cable hook options (cable retainers included).
Multiple fasteners, attachments, and supports for various mounting applications are also available.
Fastener Attachment Options: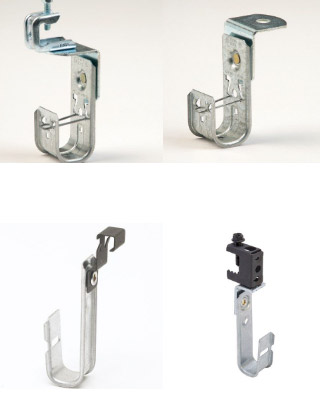 Beam clamp
Strut fastener
Flange
Rod
T-bar
Guide-Rite
B-Line Series J-Hook Color ID Clips
No need to wait for custom-painted cable hooks; B-Line series J-hook Color ID Clip fits easily onto B-Line series cable hooks. Clips can be ordered pre-assembled, loose to assemble at the job site, or clipped onto existing in-use cable hooks. An easy way for installers and inspectors to verify that cables are running in their designated pathways.
To learn more,