SaskPower Electric Vehicle Infrastructure Program
SaskPower has created the Electric Vehicle Infrastructure Program (EVIP) to help fund the deployment of 20 Public DC Fast Charging Stations (40 chargers) across the province.
The program targets third parties in Saskatchewan interested in owning and operating EV fast-charging stations and provides funding of eligible expenditures up to 75% of Total Project Cost or a maximum of $200,000 per site location.
Interested in EVIP?
If you're part of an organization that would like to take part in the EVIP, contact our Saskatchewan office (todd@gbagencies.com) for further information on how we can assist you.
The Program's application window will be open from April 6-19, 2022. All applications must be received within this window to be considered.
FLO's Recommended EV Charger for SaskPower's EVIP: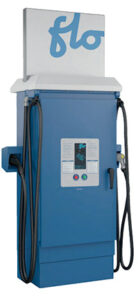 SmartDC
Equipped with both CHAdeMO and SAE Combo connectors, the SmartDC charging station is designed to offer a fast, reliable charging experience for every electric vehicle capable of DC fast-charging.
Robust NEMA type 3R casing, reliable and designed to withstand harsh weather and corrosion
Modular design to facilitate fast and easy servicing & maintenance
Available in both 50kW and 100kW configurations
Compatible with the CHAdeMO and SAE J1772 Combo protocols (Compatible with Tesla via adapter)
RFID card and/or mobile app authentication and payment
Cable management system available in 50kW configuration