SmartTWO-BSR™ Charging Stations
SmartTWO-BSR™ charging stations are specifically designed for curbside installation, making them ideal for city streets or busy areas. Their sleek design will blend in harmoniously with modern urban landscape while making them easy to locate from a distance. SmartTWO-BSR stations can power two EVs simultaneously and are equipped with a clever cable management system that retracts cables after each use.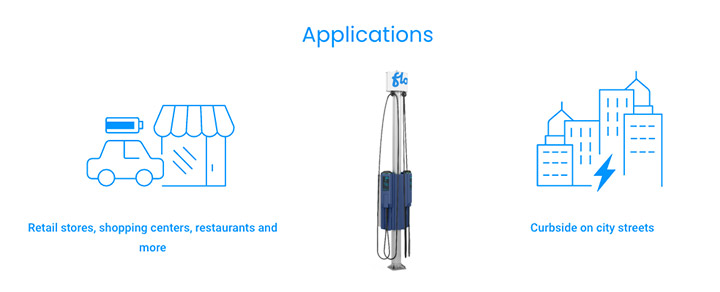 Designed to Electrify Cities
The SmartTWO-BSR's sleek design blends in harmoniously with the urban landscape. With its dual Level 2 charging stations, it is capable of powering two electric vehicles simultaneously, delivering up to 7.2kW of power to each one. SmartTWO-BSR is equipped with an ingenious automatic cable management system that retracts the cables after each use.
Designed for public locations, the SmartTWO's patented door locking mechanism protects the most important part of the charging station – the connector. The connector is only accessible with user authentication and must be returned to end each charging session. This security feature brings additional durability to the unit.
SmartTWO-BSR Product Features
Cable management system to ensure cables are kept safely off the ground when not in use
Capable of charging two EVs at the same time
An optimized height with a 22' cable to reach the EV charging port regardless of the position of the car
FLO's unique locking mechanism that protects the connector; door unlocks on authentication
Universally compatible, high-quality J1772 connector designed for 10,000+ charging cycles
NEMA 3R aluminum casing for maximum climate resistance and long-term durability
Certified to operate at temperatures ranging from -40°C to 50°C (-40 °F to 122 °F)
Small footprint allows it to blend in with an urban environment
Convenient charging session authentication through RFID card or FLO mobile app
Remote control of station access and rates for customized user experience
Integrated 3G/LTE cellular gateway in the master unit providing network access to auxiliary units in the vicinity
CSA certified