21-in-1 Twist-A-Nut™ Screwdriver
The Twist-a-Nut™ 21-in-1 Screwdriver is made of heavy-duty chrome vanadium shafts and provides robust strength for long life/professional use. The premium screwdriver ratchet mechanism can handle high torque without failure.
The wire nut connector wrench reduces finger fatigue and gets in tight spots. It has an ergonomic, slip-resistant, comfortable, textured ™ grip to provide better torque. It resists perspiration, water, oil, chemicals and has Accu-Loop™ wire looping hole.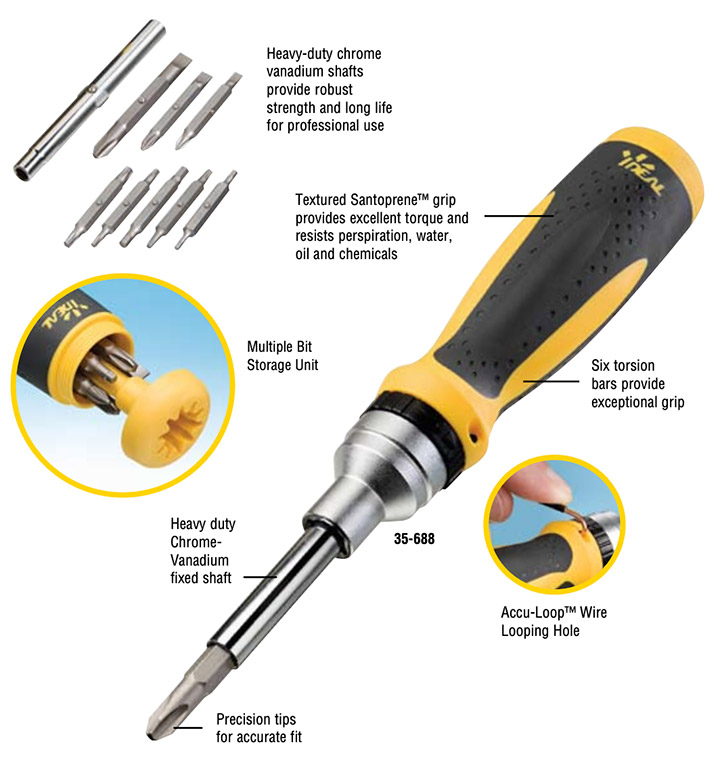 Patented Wire-Nut® Wire Connector Wrench accepts a wide variety of connectors and reduces finger fatigue
Pro-quality, 28 tooth, all-metal ratchet can handle 225 lbs. of torque without failure
Ergonomic, slip-free textured grip provides excellent torque and is impervious to perspiration, gas, oil, and chemicals
Multiple bit storage unit in handle
Bits included: #1 Phillips, #2 Phillips, #3 Phillips, 3/16" Slotted, 1/4" Slotted, 5/16" Slotted, #1 Square, #2 Square, #15 Star, #20 Star, #25 Star, #30 Star, 3/32" Hex, 1/8" Hex, 3/16" Hex, 5/32" Hex, 1/4" Nut, 5/16" Nut and 7/16" Nut
Over to you Ron…