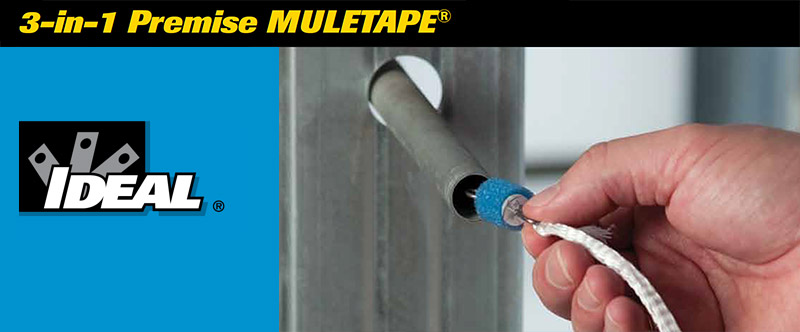 IDEAL Muletape® Premise tape allows three functions in one product; thread, measure, and pull in one step. This reduces installation time by allowing fewer steps and results in significant material and labor savings.
No need for proofing with polyline or pulling with string/rope combinations. And, because it is imprinted with sequential footage or meter markings, there is no need to go back and manually calculate the length of cable you will need. That means fewer steps in the installation process and fewer products shipped to the job site.
Two products available to meet any need on the job. The 4500-ft. length has a pull strength of 400 lbs. and is 1/4 in. width. The 1,300 ft. length has a pull strength of 1,800 lbs. and is 1/2 in. width.
Eliminates potential for duct cutting
Lower elongation reduces snap-back and enhances worker safety
Reduces tension at the start of a pull
Imprinted with footage or meter marking
Reduces material, inventory, and freight costs
Pulling strength – 400 lbs. to 1800 lbs.
Patent pending