If you install, maintain or troubleshoot data cabling and Ethernet networks, SignalTEK NT allows you to prove the performance up to Gigabit Ethernet transmission rates.
By simulating actual network traffic users are able to test and document network and data cable performance to Gigabit Ethernet standards. Where system warranties are not required the SignalTEK NT is a cost-effective way of proving your copper and fibre networks provide error-free performance.
Transmission Testing
There is no industry standard defining the testing requirements of cable qualifiers, consequently passing a qualification test does not prove that the installed structured cabling will provide flawless data transmission.
Uniquely, SignalTEK NT utilizes a test method known in wide area networks as transmission testing to prove the performance of a network by sending real Ethernet data frames through the cabling and/or network devices to compare the error rate against the IEEE802.3ab Gigabit Ethernet standard. This provides a clear standards-based Pass/Fail of the link being tested.
SignalTEK NT requires no configuration from the user as the two handsets
automatically pair ready for testing; just select a usage scenario to simulate the appropriate service, from VoIP to CCTV, Video, and web traffic.
Now includes a touchscreen
Gigabit performance testing on passive cabling and active networks
Generates PDF test reports to IEEE 802.3ab standard
Simulates VoIP/CCTV/Web/IP video network traffic
Tests connection speed, port ID, ping, traceroute, IPv4/IPv6
Supports IDEAL AnyWARE™ App
Installation Testing
Cabling:
Network traffic performance test on copper and fibre to IEEE802.3ab standard
Wiremap test for opens, shorts, miswires and split pairs to TIA-568 standard
Gigabit link verification for copper and fibre cabling
Use a list of wiremap templates for common Ethernet cable types including CAT 6A/7A/8, and non-Ethernet cable, such as Profinet and ISDN.
Active Network:
Network load testing through switches simulating CCTV/IPTV/VoIP/Web traffic
PoE/PoE+ verification that displays available voltage at device location
Check Ethernet connectivity at device location to 10/100/1000 Mb/s
Verify network configuration (device IP/gateway address/subnet mask)
Switch port identification via LLDP/CDP protocols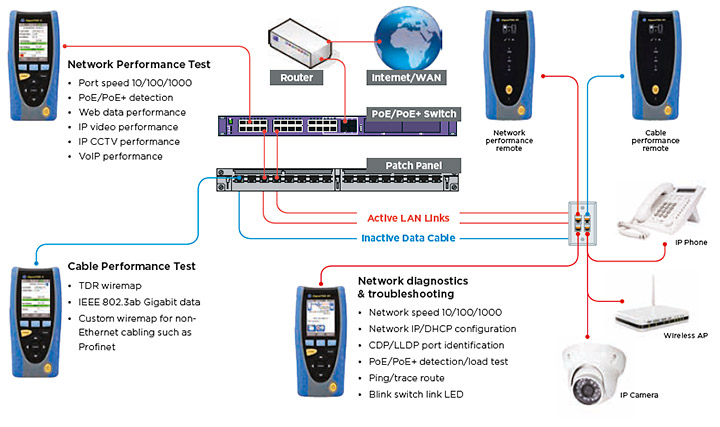 Troubleshooting / Diagnostics
Cabling:
Distance to fault using TDR technology (copper only)
Ability to identify and trace cables with a compatible amplifier probe (62-164)
Optical power indication (with compatible SFP modules)
Active Network:
Network load testing through switches simulating CCTV/IPTV/VoIP/Web traffic
Stress test network before installing bandwidth hungry devices
Port blink to visually trace cable from work area outlet to network switch
Displays port ID of LLDP/CDP enabled switches to eliminate manual cable tracing
Identify network connection problems as hardware, network or configuration faults
Ping local network devices and Internet URL's
Count number of hops between network points with traceroute tests
PoE load testing to confirm available power meets PoE device requirements
Test Reporting
SignalTEK NT automatically generates test reports in PDF or CSV format. The summary page of each report can be customized to include logo, company, and operator details. Choose between 3 different reports that can show either passed, failed, or all test reports in each report:
IDEAL AnyWARE
Send test reports from anywhere using the free app.