For those who want it all in a simple design, SMARTdri is a wise choice. It dries hands in as little as 10 seconds, which blows away comparable models. SMARTdri™ Series high-speed hand dryers are the most energy-efficient, durable, hygienic hand dryers on the market today.
Users appreciate the antimicrobial technology, adjustable controls set to their comfort, and quieter sound quality. Contractors find it easier to install with control options suitable for any application. And while it may be compact, you can expect it to withstand a high-demand environment. Best of all, it's efficient, using 80 percent less energy than conventional hand dryers. Choose between a multiport nozzle or a focused high-intensity nozzle.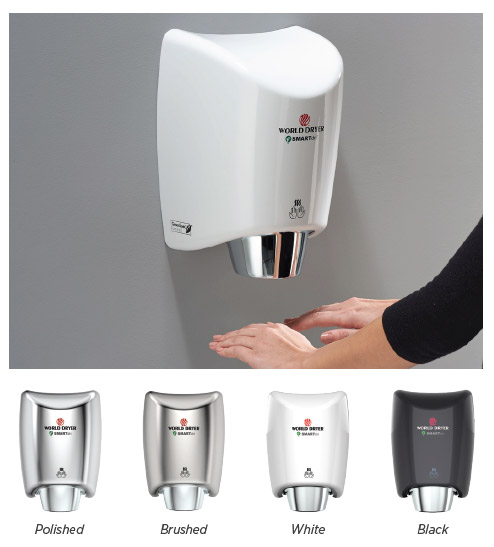 Every model is backed by a 10-year warranty for added peace of mind.
Fast Dry time: Dries hands in as little as 10 seconds
Hygienic: SteriTouch antimicrobial technology inhibits the growth of bacteria, mold, fungus and extends the dryer's service
Energy Efficient: Uses up to 80% less energy than conventional hand dryers
Flexible: Adjusts between on/off heating and 3-speed motor controls to optimize sound, comfort, and energy usage
Custom Technology: Comes available with a single-port nozzle (SMARTdri PLus) or multi-port nozzle (SMARTdri) to accommodate ranging drying preferences
Extended Life: Lasts up to 3 times longer than the competition with industry-leading motor
Choose a SMARTdri design for your restroom environment.