TKO™ Carbide Tipped Hole Cutters
IDEAL's TKO cuts smooth holes at a fraction of the time and cost of traditional knockout punches.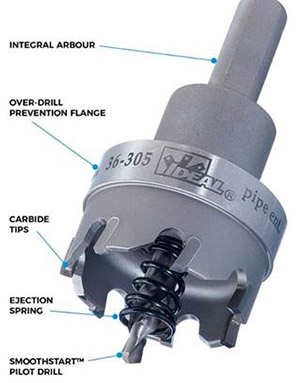 The carbide tips cut through stainless steel and outperforms High Speed Steel cutters and bi-metal hole saws in mild steel by a mile! If you are used to using bi-metal hole saws, the TKO is a completely different experience cutting through boxes smoothly and with an improved degree of control. Carbide's toughness and hard metal characteristics provide a tough, long lasting cutter that leaves a professional, quality hole.
Featuring:
Precision engineered, ground carbide tips – cut over 200 holes through stainless steel, and outperform HSS cutters and bi-metal hole saws in sheet steel
Replaceable pilot drill with SmoothStart™ Tip – guides the cutter to the surface, avoiding cutter damage and providing smoother, more accurate holes
Over-drill flange – prevents penetration beyond the sheet metal
Ejection spring – effortlessly ejects slug
Available in a full range of sizes from 3/4" to 4-1⁄2
Perfomance Tips:
Recommended RPM range is 300 to 1500 RPM
Use in cordless power drills and impact drivers
Use cutting oil to extend life of drill tap