Universal Slide Dimmer SUL06P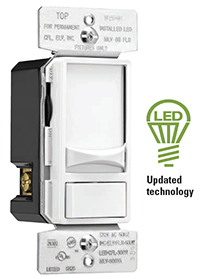 Eaton Wiring Devices is excited to launch their new premium Universal Slide Dimmer, the SUL06P. The SUL06P premium dimmer offers several unique features and benefits.
Microprocessor-based controlled dimmers that provide increased LED compatibility
Back wire clamp provides easy installation
No neutral wire connection required for quick installation
Small "ON/OFF" switch size for aesthetically pleasing design
Adjustable low-end trim allows for optimal dimming
Single pole or 3-way wiring options available in one unit for convenience
No neutral required with grounding screw saves on installation time
Ergonomic slide control for easy and precise operation
Please contact us for updated pricing.