When it comes to purchasing a Bi-Metal Hole Saw, look no further. The IDEAL® Bi-Metal Hole Saw utilizes M42 high-speed steel with 8% premium cobalt and a rigid solid backplate. They provide 2.3x more holes than leading manufactures as well as greater strength and wear resistance.
The extreme deep gulleted teeth design clears out uniform chips that minimize binding on the job that provides 1.2x faster drilling time than the leading manufacturers in the market.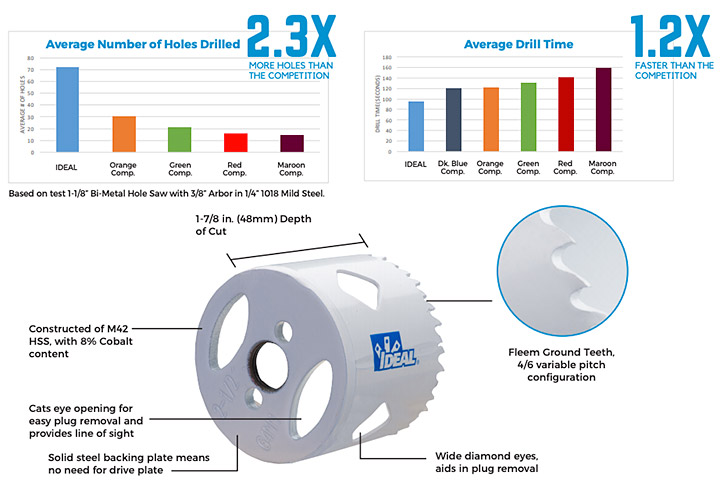 With a standard 1-7/8" cutting dept, you can save time cutting 2'x4's with a single pass design. The IDEAL® Bi-Metal Hole Saws effectively cut through a wide range of materials, including stainless steel, sheet metal, as well as common non-ferrous materials, such as aluminum, copper, brass, wood, engineered wood, nail embedded wood and plastics.
When it comes to IDEAL vs. the competition, we have the professional in mind. The wide offering includes sizes from 7/8" to 6" that include diamond side eyes to provide ease of slug removal. The 2" to 6" Bi-Metal Hole Saws have large cat eyes on the back, that not only provide line of sight but aid in plug removal. IDEAL is the professional's choice for Bi-Metal Hole Saws.
The High Speed Steel Bi-Metal Hole Saws offer:
Reduce cutting time with 1-7/8" depth of cut.
Solid steel back plate for cleaner, truer holes and longer tool life.
Unique fleem ground teeth geometry resulting in improved performance and efficient chip removal.
4/6 variable tooth configuration for faster cutting and longer life.
Diamond side provides quick plug removal, available on 7/8 in. to 6 in. hole saws
Cat eye openings on solid back plate provide line of sight and aid in plug removal, available on 2 in. to 6 in. hole saws.