Feed-Thru Modular Plugs for Large-Diameter CAT6/6A Cable
We are excited to announce Ideal's latest addition to their datacom product line: Feed-Thru Modular Plugs for Large Diameter Cable (CAT6/6A)
There are two new types of feed-thru connectors available: Shielded and Unshielded.
CAT6A/6 Unshielded:
CAT6A/6/5e Shielded:
10 Card – 85-363
25 Card – 85-368
50 Jar – 85-369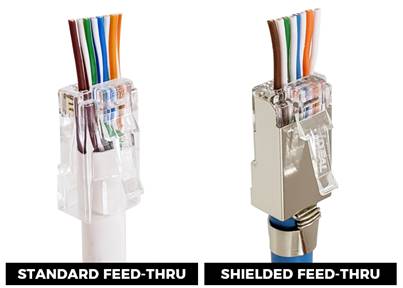 Our line-up now includes a full-range of feed-thru connectors, covering all the most common sizes from CAT5e to CAT6A.
Designed for use with CAT6 / CAT6A cable with inner-conductor diameters up to 0.048" (typically 23 and 22 AWG)
The shielded version features an integrated strain-relief
Staggered conductor orientation to allow larger diameter insulated conductors (from 0.040" – 0.048")
ONE TOOL FOR ALL – Compatible with the IDEAL FT-45™ Crimping Tool which works with ALL our standard and feed-thru connectors! Part number: 30-495.