The KwikRail cable tray system is ideal for NEMA 12A and 12B (CSA class C-3 and D-3M) load classes for small power and instrumentation tray cable management in multiple commercial and datacomm applications. Its innovative design and accessories allow installers to easily and quickly modify the tray on the job site.
Faster Installs
The KwikRail cable tray system features an I-beam side rail splice retention groove that allows installers to easily guide and snap the splice in place with just 2 bolts. The splice retention groove holds the splice in place while maintaining structural integrity and UL classified as an electrical grounding conductor.
Design Versatility
The KwikRail straight sections are available with welded rungs or bolted rungs to allow installers to add or remove rungs* in the field. The straight sections and fittings feature perforations along the side rail to allow you to quickly and easily alter the system. Plus, add-rung-kits allow you to add rung at any location along the length of the tray making cable support and adding accessories simple to achieve.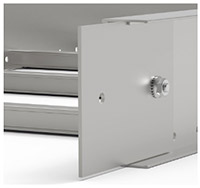 Advantages Over Conduit
Lower installed cost when compared to conduit
Tray allows for future expansion
Easier to modify system in the field with use of vertical and horizontal adjustable splices
Lighter weight, easier to handle during install