TIGHTSITE® & Conventional Clamp Meters
IDEAL has added 3 new clamp meters to their Test & Measurement family.
61-737 400A AC Clamp Meter 4000 Count w/Backlight (CAT III 600V)
61-747 400A AC/DC Clamp Meter TightSight™ w/Backlight & Flashlight (CAT III 600V)
61-757 600A AC/DC Clamp Meter TightSight™ w/Backlight & Flashlight (CAT III 1000V, CAT IV 600V)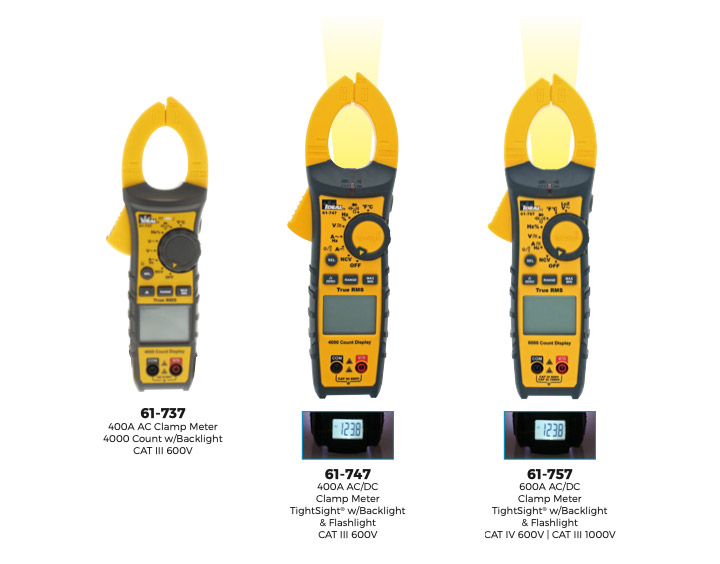 The IDEAL TightSight Clamp Meter (61-747 and 61-757) allows the user to safely clamp around a conductor and view current measurements with the patented second TightSight display at the bottom of the tester. It lets you easily take readings and eliminates the need to bend or twist conductors or place your head near or in the panel. It provides you with a safe and easy-to-read bottom display when taking measurements in confined, dimly lit, and hard-to-reach locations. Both displays are large 4000 count displays that can be backlit, and the built-in flashlight can be used to illuminate a work area when working in poor or low lighting conditions.
The clamp heads have a built-in probe tip holder on the backside of the right clamp to allow measurements holding the clamp in one hand while holding the second lead in the other hand. The industrial-grade over-molding enhances gripping and allows the meter to withstand a 6.6-foot (2 m) drop.
Note that the CAT III safety rating of the tester is lowered to a CAT II rating when the protective caps are removed. Always replace them after testing a standard outlet to reduce the chances of inadvertently shorting two conductors with exposed metal tips.
Compatible with IDEAL's Universal Magnetic Hanging Strap which is sold separately to be attached to the meter so it can be hung from a nail, screw, or magnetic surface. Rugged testers for everyday use in residential, commercial, or industrial electrical applications.