Tuff-Rod™ Fishing Poles were designed with flexibility and performance in mind. They feature a crimped edge, gel coat, and reinforced composite pultrusion fiberglass, for a high-quality fish pole that is strong and long-lasting.​​​​​​​
Ideal for a wide range of electrical and datacom installation situations, select the 'flex' that best suits your application. Whether you are running wire in and around studs, or pulling over long distances in a drop-ceiling, Tuff-Rod™ is the optimal choice. For lowlight situations, choose Tuff-Rod™ with Glow, a pale green, luminescent fiberglass.
Flexible fiberglass rod kits are ideal to reach and pull wires over suspended ceilings in cable trays or through interior walls. Each comes in 4 ft. or 6 ft. sections, depending on the finished length desired. Durable connectors allow sections to be screwed together for the desired length for the job. Regular flex fishing pole kit features 1/4 in. white extra stiffness fiberglass providing added control when maneuvering wires.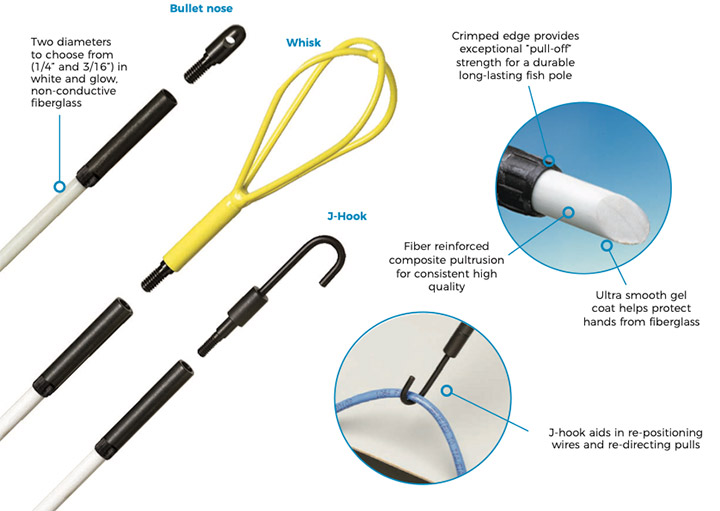 Tuff-Rod™ Regular Flex Fishing Poles:

Tuff-Rod™ Extra Flex Glow Fishing Poles:
IDEAL has added 2 new Extra Flex Glow SKUs to round out their lineup – an 8-foot and a 15-foot option.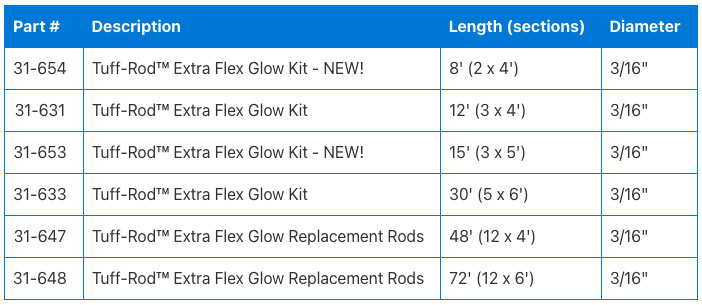 Non-conductive fiberglass in regular or extra flex
1/4" white (regular flex) OR 3/16" glow-in-the-dark (extra flex)
Three tip types available for maximum flexibility in a variety of applications
Threaded extension rods and attachments
Consistent and durable performance
Repair kit allows for in-field, quick repairs and component replacements
Accessory heads are available in three styles for maximum functionality. Repair kits are also available which allow for quick and easy repairs in the field.
Repair Kits: