Arrow Hart Industrial Grade Colour-coded Locking Devices
The industry's most complete line of commercial and industrial locking devices.
The superior safety of Eaton's Arrow Hart ultra grip locking devices has been enhanced with colour coding to provide you with a quick, clear, and easy way to identify your circuit voltage. Eaton's Arrow Hart colour-coded locking devices is an industry-first solution that adds six voltage rating colour codes consistent with IEC 60309 standards to locking plugs, connectors, inlets, outlets and receptacles. Colour-coded locking devices are available in standard NEMA configurations for 20A and 30A applications.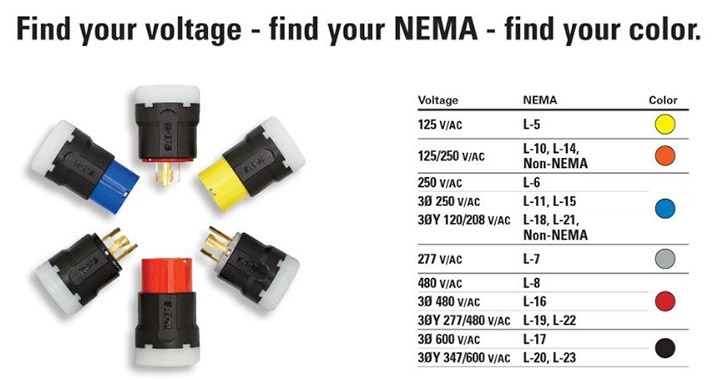 Eaton's Arrow Hart industrial grade colour-coded locking devices ensure long-lasting, dependable service in the most demanding environments. Built with a contemporary flair and ergonomic design for a comfortable yet secure feel, ultra grip plugs and connectors offer excellent reliability and durability.
Colour-coded locking devices feature six colour codes consistent with IEC 60309 standard to identify voltage ratings at a glance
Eaton's signature ergonomic ultra grip design and tri-combo screws make installation quick and easy
Double dove tail cord grips for superior cord alignment and clamp force for wire retention
Voltage ratings printed on the locking devices are highly visible even when mated
Locking receptacles feature a rugged glass filled nylon body, one piece brass contacts, and back and side wiring terminals for easy and secure wiring
Save time and use Eaton's new Arrow Hart NEMA locking device selector tool, to quickly find the devices for your application.