PowerAct – Active Harmonic Filters
Powerside active harmonic filters provide a fast return on investment. The quick and effective response of a PowerAct active harmonic filter to power system variations enables higher process reliability, longer equipment life, reduced energy costs, and dependable productivity.
Benefits:
PowerAct dramatically improves power quality by mitigating harmonics, stabilizing voltage, balancing phase loads, and compensating for poor power factor. It's a core building block of our smart grid product solutions. PowerAct makes it easy to comply with power quality standards and demanding grid codes.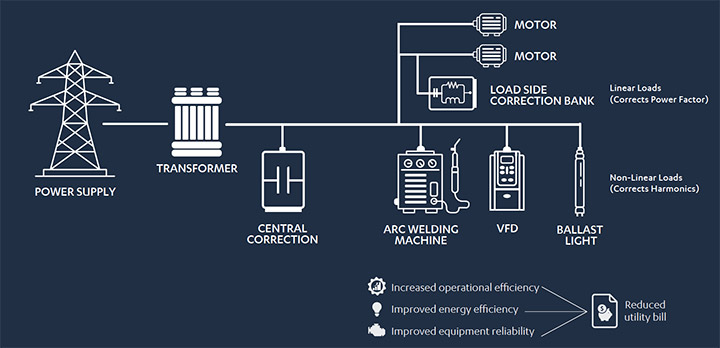 Protects equipment from harmonics generated by other industrial operations
Stabilizes voltage with Var compensation
Increases operational reliability by reducing maintenance repairs
Extends the lifetime of electrical equipment
Provides additional capacity in an existing electrical network
Eliminates the need for engineering analysis
Reduces energy costs, lowering CO2 emissions
Fast return on investment
PowerAct comes equipped with a smart controller for automatic harmonic correction. It features 3-level IGBT Inverter topology, a 7" touch-screen user interface, and dedicated cooling chimney that protects electronics keeping them cool. Designed for small areas, PowerAct can grow to 500A inside one cabinet. The result is a flexible, controlled, and compact, harmonic filter that is safe, easy to operate, and compliant with standard communication protocols, and meets IEEE 519-2014 harmonic requirements.