FLO
FLO is one of North America's largest charging networks
The ONLY EV charger made in Canada and proven for Canadian winters and certified to operate at temperatures ranging from -40°C to 50°C.
FLO offers smart home charging solutions for both single-family houses and multi-unit residential buildings, as well as access to thousands of public charging stations across the country.
FLO also provides turnkey solutions to property managers, business owners, employers, and municipal administrators who wish to support EV adoption by supplying charging services.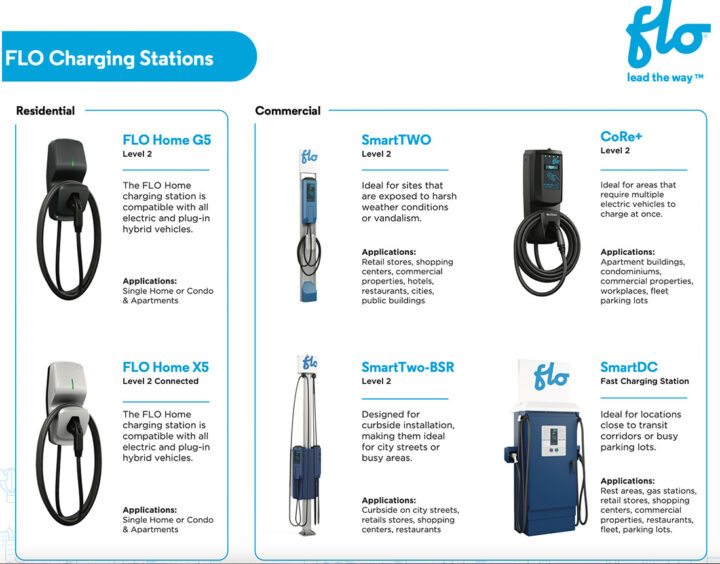 The FLO Advantage
#1 EV Charging Network across Canada with over 50,000 charging stations.
Frost & Sullivan – 2017 North American EV Charging Competitive Strategy Innovation and Leadership Award recipient.
100% made in Canada for our Canadian climate, with products geared toward Canadian EV Drivers.
Only EV Charging Company Completely Vertically Integrated providing the most reliable charging solutions from start to finish. FLO has a 99% uptime rating across out units.
Best in Class Construction: Robust NEMA 4X Aluminum Construction (Home & CoRe+) and top of the line Cables and Connectors throughout the entire product line (Certified and proven to operate to -40 to +50 Celsius).
Exclusive Energy Management Features like PowerSharing & PowerLimiting (various models).
Lowest ongoing operating costs in the industry.
Seamless Billing & Revenue Management in Canadian Dollars.
Multiple pricing models to meet needs of consumers in different market segments.
Real-time 24/7 charging station status monitoring.
24/7 Owner Web Portal access for easy revenue management, energy management, and usage reports.
Compatible with all EV and Hybrid Vehicles in the market.
Over 99% Reliability Rating!
The FLO Network prides itself on 99% uptime and was developed in-house by FLO for seamless compatibility and support for all FLO networked chargers.
FLO networked chargers feature:
Part of the largest network in Canada, FLO (over 50,000 stations deployed in Canada)
Data transfer and collection to a Canadian database
Users access control management
Bi-Lingual 24/7 customers service
24/7 pro-active monitoring of the stations
Cellular network communications – Network Gateway provided as part of the GMS services. Owner does not have to source networking solution
Charging stations owner web portal
Energy management web interface access;
Control the energy output to the charging stations to control operating costs through our exclusive PowerLimiting features
Global Management Service also includes the telecommunication fees and the rental of the communication gateway
Revenue collection and pricing control
All transactions are processed in Canadian dollars
Related Links